Archive for the 'quail eggs' Category
Clan Mating or also called Family Mating is a breeding plan to insure good genetic diversity in a small flock or herd. While this system can be used with any type of livestock, obviously we are going to focus on quail.
In order to do clan mating you will need at least 6 birds, 3 male, 3 female. You tag or group the three separate clans with 1 male and at least 1 unrelated female per clan or family. For arguments sake lets assign them group colors for this discussion. I have a red, yellow, and green groups. Why? Because when I ordered the leg bands that is what colors were available for order, no other reason.
For this system to work you need to isolate each clan for breeding purposes to be sure of who fathered the chicks. I actually use three separate cages for my breeders, but if you don't have that option you will need at least two separate cages. One for the main flock and one for the isolated breeding clan. Typically I recommend waiting two weeks after isolating the breeding clan, this will allow for any non-clan related breeding to have worked itself out. What I mean by this is if you are raising your quail in a colony cage with several males of different clans, your females may have been recently breed by a non-clan related male. After two weeks of isolation, any eggs you collect for incubation are guaranteed to be from breeding with the clan related male during isolation.
Then once the chicks are hatched you assign the females to the color or clan of the mother and the males to the next color or clan. So for example, when I am breeding and incubating the "red" clan in my system. The females will get a red leg band and stay apart of that clan. The males will get a yellow band and become apart of the next clan. When I am breeding the "yellow" clan, the female chicks remain yellow and the males get a green band. Finally, when breeding the "green" clan the female chicks remain green and the males get a red bad.
This system allows for sufficient genetic diversity in your flock with the minimal size flock of six birds. It is easy to run and doesn't require a lot of complicated setup.
Take to the comments below with any questions or additional thoughts on clan mating quail flocks! Thanks!
Well yes and no!
Like most animals they are in tune with the seasons and during the winter month they will stop laying. It makes sense since any eggs that would hatch or young being born during the colder months would have a smaller chance of survival. This reduction in egg laying is triggered by the shortening of the day, less sunlight means less eggs.
While they naturally will slow down or stop laying eggs in the winter you can trick them by providing supplemental lighting. If you can provide 12-14 hours of light per day the quail will quickly return to laying every day. My recommendation is a simple string of Christmas lights with an inexpensive weather proof timer, both readily available at stores that have forgotten that we haven't even had Thanksgiving yet, but I digress. These lights are weather proof, cheap to run (lower power usage), and easily hung around whatever cage you are using.
I recommend setting your timer based on your sunset time, meaning have the lights come on early in the morning to extend the first part of the day and go off either later morning or early afternoon. This allows the bird a more normal ease into the darkness of night as opposed to a sudden removal of the lights after dark and them walking into walls or something crazy. You don't need to run them all day, just until after sunrise then they can go off saving even more energy.
Depending on your climate though you may need to collect eggs more often than once a day. Frozen eggs tend to crack and let in the bad bacteria. So make plans to collect at least twice a day or more if you climate gets and stays below freezing for extended periods.
Final thoughts – some people will say this practice is bad for the birds and they need to have a time of dormancy to recovery or it will shorten how long or how well they lay in future years. I believe to each his own. In my system I will use lights to keep them laying into winter and as spring time nears I hatch out new birds and replace all my layers with new stock. So I never know what I may be losing in future years.
What do quail eggs taste like? Can I eat fertilized quail eggs?
Given that you feed the quail a commercial game bird feed, the eggs will taste the same as chicken eggs. If they have a different diet it can affect the taste, but not much. I have also been asked about eating fertilized eggs. There is no problem eating fertilized eggs, the problem comes in if you dont collect, clean, and refrigerate them daily. If it is super hot (90F plus) or super cold (below freezing) you should collect eggs at least twice a day.
Why raise coturnix quail? Why raise quail? Why keep quail?
Quail, especially coturnix quail, are easy to raise. They will give you eggs and meat if you desire. Finally, most locations and HOAs do not restrict them like chickens or ducks. Need more information check out my post "backyard quail – ten reasons why they are the perfect backyard animal"
Why aren't my quail laying eggs? When do quail lay eggs? When do Japanese quail start laying?
Japanese coturnix quail will start laying eggs around 8 weeks old. A couple things that might affect this is hot or cold weather, age, and gender. Seems obvious, but make sure you have a female quail. Also, a lack of fresh clean water or good quality food can also decrease egg production.
What to feed quail?
I recommend a good quality commercial game bird feed. I tend to use Purina game bird
products because they are available locally and easy to use. You can do some research online if you want to mix your own, but it is difficult to get the nutrition, protein level and vitamins just right. So proceed with caution! At one time I tried to feed some treats of grass/weeds/bugs, but my birds didn't seem to get it, so I stopped.
What is a group of quail called?
A group of quail is called a "covey".
What sound does a quail make?
Different quail make different sounds but the Japanese coturnix quail make a sound like a cricket chirping. The males do "crow" but it it is very soft. My urban neighbors didn't know I had quail until I told them.
Can you free range quail?
The direct answer is "no". Quail do not roost in the same place each evening, so if you release them they are not coming back. See my "free range quail" post for more information.
When do quail eggs hatch?
Typically they take 17 days to hatch. I say typically because modern quail, coturnix in particular, have had the ability to sit on and hatch eggs breed out of them. This means you will have to use an incubator. Differences in temperature and humidity can cause some eggs to hatch earlier or later. But nothing more than a day or two each way. So 16-19 days.
Quail when to start regular feed?
I feed my new quail chicks game bird starter feed with 30% protein for at least the first three weeks, then until it runs out after that to finish the bag. Then I start them on adult game bird feed of at least 20% protein.
I hope this was helpful to someone. Feel free to use the "contact for"m if you have any other questions or need more information.
Been a while since I posted, so thought I would begin with a post for folks looking to get started raising quail for eggs and/or meat in their backyard.
1) Cage or pen
You will need a minimum of a 2X2 area for each pair or trio of birds.  This is a minimum and more is better.  The needs here are pretty simple, something to keep the birds in and predators out.  While there are a lot of crazy flight cages and things you could build, I recommend starting small and building up to it.  Check Craigslist or eBay for a rabbit hutch or something similar. Place it in a location that gets good ventilation, but not direct sun in summer. I also recommend a raised cage with a screened bottom. This allows for a cleaner area for the birds to live in without you constantly needing to clean it.
2) Birds
OK, this seems obvious, but be careful. Some birds have specific requirements, limits, or permits in different states and locations. I recommend checking your state and local requirements before making any purchases. For beginners I highly recommend Jumbo Brown Cortunix quail. These birds are easy to keep and identify the male from the female based on feather color. Also, they usually have no state or local restrictions. They too can be found on Craigslist. If you are daring you can get an incubator and some hatching eggs, but might want to save that for later.
3) Feed
I recommend a good quality game bird feed of at least 20% protein, I use Purina brands. Some folks want to mix their own so they know what the birds are eating, but it is very hard to do this and provide proper protein and nutrition/vitamins needed by the birds. Just starting out go with store bought and if you want to mix your own, transition the birds to it slowly later so you can watch for any problems.
4) Water
Fresh clean water, fresh clean water, fresh clean water! Get it? The birds need fresh clean water at all times regardless of weather or season. In the heat of summer, fresh clean water. In the middle of an ice storm in winter, fresh clean water! It will depend on your cage setup how you do this, but give it some thought or try different things For me, down the length of the cages I added a piece of PVC pipe with a slot cut into it. This allows me to easily clean it out or remove ice.
5) Time
Lastly, anything you do requires some time. Quail do need much! Feed them once a day, fresh clean water twice a day, collect eggs and remove waste as it builds up. I can do all of this in about 10-15 minutes a day and 15-20 minutes extra on weekend to clean out from under the cages.
Hope this helps and inspires someone to get started raising quail!
Winter is FINALLY over! I ended up with 10 quail after a long brutal winter. Thanks to the surviving females I have 28 eggs in the incubator. With my normal 50% hatch rate I hope to have 10+ new additions to the flock.
I have a cheap low end styrofoam incubator. Last year I got a digital thermometer and it shows the temp range (hi/low) and this thing varies wildly which is why I think I get such a low hatch rate. I am thinking I will need to see what I can do it better insulate it and see if I can get it into a narrower temp range. Thoughts?
So been busy this summer with the new chickens – spent most extra time working on the coop (see pics).
But the thing I learned was it Is not good for egg production to drastically change what you are feeding your quail. I had run short so I feed them chicken crumbles for a couple days till I could get to the feed store. Needless to say it took over a month to get them back to "normal" laying.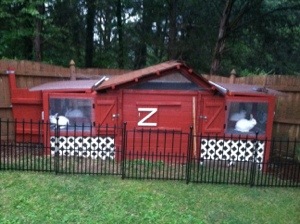 Decided this weekend that the weather was finally done with the brutal cold and moved the birds back into the suspended breeding cages.  One mistake I made this year is I kept too many males over winter – feed cost I didn't need to spend.  Ended up with 4 females and 6 males, since I keep the 2:1 had a few extra bachelors.
Since I was short females and to diversify the gene pool I ordered some eggs off eBay.  It was almost a bad situation since I didn't account for my travel schedule, they came one day before I left.  Which actually works well as they can incubate while I am gone.  Hopefully in 17 days I will be at full capacity for the summer.
My hope this year is too focus more on meat production.  Have to wait and see how quickly I can cycle them through the incubator and brooder.
Bunny update:  my existing doe had a litter of 6 last week, 5 made it.  I seem to loose one right off the bat with each litter.  Hopefully the other two does I kept from the first litter last fall are pregnant and will have litters in two weeks.
UPDATE: birds started laying last week while I was gone.  Took about a week and half after I put them back on 12-14 hours of light a day.
So spring is trying to arrive, but intermittent snow storms (12 inches at a time) are trying to slow it down.  All the quail except 1 of 2 Texas A&M made it through the winter.  I have been keeping them in a section of the rabbit cage I built.  It allowed me to have a single heated water source and provided them some protection from the elements. Suppose to warm up next week so I plan to move them back to the breeder cages and see if I can get them started laying again.  It was interesting that after only 2 days of being in the larger cage and no lights they stopped laying entirely.  Hopefully they remember how!  🙂  I plan to order some eggs online and hatch them to rebuild the flock, but that will have to wait until I feel like the eggs will stay warm enough during shipping.
Other backyard quail farm happenings:
Chickens: my wife applied to the city for a special use permit to have chickens and we were approved.  Secretly I think she hopes this will replace the quail, but I don't have the heart to tell her.  Really the quail are little trouble (less than what I think the chickens will be) and since I can not have a rooster according to the city I am not able to hatch chicken eggs to refresh the flock.  I will be setting up a brooder this weekend and hopefully getting chicks next week from the feed store.  I am looking to get White Leghorns.  Everything says they are good egg layers and lay large white eggs, the kids will never know – shhhhh!
Rabbits: the bunnies made it through the winter as well.  Keeping their water unfrozen proved a challenge.  The heated bottles I bought were only good down to about 25 degrees.  But I currently have the two original bunnies (1 male, 1 female, both flemish giant, new zealand mix) and two of the does first litter does.  I breed the original doe a month ago thinking it would be warming by now, she had a litter of 5 over the weekend.  The other two does are not from this buck and are now old enough to be moms, so I have breed them as well this week.  We will see how they do over the next month.
Garden:  the seeds have been started indoors for a variety of items: cabbage, broccoli, kale, tomatoes, peppers.  If the snow ever clears I will harden of the cold tolerant plants and hopefully get something in the ground soon.  Also, I planted garlic for the first time this past fall.  Looking forward to see if that comes back up and makes for a harvest.
I have gotten a couple of questions lately about "free ranging" quail.  While this works well for chickens, ducks and other fowl it is not recommended for quail.  They tend to fly off never to be seen again. They don't tend to roost in the same place each evening making free ranging difficult.
If you check my site I recommend a smaller cage for urban quail, about 2X3 foot.  If you have more room you could use what is called a flight cage.  It is a larger completely enclosed area that will allow the quail some height and distance to fly and exercise.  It is usually used by growers who intend to sell their quail for training dogs to retrieve.  Quail used in this way need to have strong flight muscles.  it could also be used at ground level (as opposed to raised cages with wire bottoms) to allow the birds some ranging.  It creates a real problem if part of your intent is to raise the birds for eggs, they are harder to find in such a setup.
Although I have never heard of it being used with quail, I would assume you could also used what is called a chicken tractor (search it).  This would allow the birds some ground contact and a chance at natural foods like insects.
I would recommend regardless that you can a small box with some sand in it the cage to allow for some natural stimulation of the birds.  Although the don't need the grit if given a all purpose feed, it cant hurt them.