Archive for the 'quail incubator' Category
What do quail eggs taste like? Can I eat fertilized quail eggs?
Given that you feed the quail a commercial game bird feed, the eggs will taste the same as chicken eggs. If they have a different diet it can affect the taste, but not much. I have also been asked about eating fertilized eggs. There is no problem eating fertilized eggs, the problem comes in if you dont collect, clean, and refrigerate them daily. If it is super hot (90F plus) or super cold (below freezing) you should collect eggs at least twice a day.
Why raise coturnix quail? Why raise quail? Why keep quail?
Quail, especially coturnix quail, are easy to raise. They will give you eggs and meat if you desire. Finally, most locations and HOAs do not restrict them like chickens or ducks. Need more information check out my post "backyard quail – ten reasons why they are the perfect backyard animal"
Why aren't my quail laying eggs? When do quail lay eggs? When do Japanese quail start laying?
Japanese coturnix quail will start laying eggs around 8 weeks old. A couple things that might affect this is hot or cold weather, age, and gender. Seems obvious, but make sure you have a female quail. Also, a lack of fresh clean water or good quality food can also decrease egg production.
What to feed quail?
I recommend a good quality commercial game bird feed. I tend to use Purina game bird
products because they are available locally and easy to use. You can do some research online if you want to mix your own, but it is difficult to get the nutrition, protein level and vitamins just right. So proceed with caution! At one time I tried to feed some treats of grass/weeds/bugs, but my birds didn't seem to get it, so I stopped.
What is a group of quail called?
A group of quail is called a "covey".
What sound does a quail make?
Different quail make different sounds but the Japanese coturnix quail make a sound like a cricket chirping. The males do "crow" but it it is very soft. My urban neighbors didn't know I had quail until I told them.
Can you free range quail?
The direct answer is "no". Quail do not roost in the same place each evening, so if you release them they are not coming back. See my "free range quail" post for more information.
When do quail eggs hatch?
Typically they take 17 days to hatch. I say typically because modern quail, coturnix in particular, have had the ability to sit on and hatch eggs breed out of them. This means you will have to use an incubator. Differences in temperature and humidity can cause some eggs to hatch earlier or later. But nothing more than a day or two each way. So 16-19 days.
Quail when to start regular feed?
I feed my new quail chicks game bird starter feed with 30% protein for at least the first three weeks, then until it runs out after that to finish the bag. Then I start them on adult game bird feed of at least 20% protein.
I hope this was helpful to someone. Feel free to use the "contact for"m if you have any other questions or need more information.
Been a while since I posted, so thought I would begin with a post for folks looking to get started raising quail for eggs and/or meat in their backyard.
1) Cage or pen
You will need a minimum of a 2X2 area for each pair or trio of birds.  This is a minimum and more is better.  The needs here are pretty simple, something to keep the birds in and predators out.  While there are a lot of crazy flight cages and things you could build, I recommend starting small and building up to it.  Check Craigslist or eBay for a rabbit hutch or something similar. Place it in a location that gets good ventilation, but not direct sun in summer. I also recommend a raised cage with a screened bottom. This allows for a cleaner area for the birds to live in without you constantly needing to clean it.
2) Birds
OK, this seems obvious, but be careful. Some birds have specific requirements, limits, or permits in different states and locations. I recommend checking your state and local requirements before making any purchases. For beginners I highly recommend Jumbo Brown Cortunix quail. These birds are easy to keep and identify the male from the female based on feather color. Also, they usually have no state or local restrictions. They too can be found on Craigslist. If you are daring you can get an incubator and some hatching eggs, but might want to save that for later.
3) Feed
I recommend a good quality game bird feed of at least 20% protein, I use Purina brands. Some folks want to mix their own so they know what the birds are eating, but it is very hard to do this and provide proper protein and nutrition/vitamins needed by the birds. Just starting out go with store bought and if you want to mix your own, transition the birds to it slowly later so you can watch for any problems.
4) Water
Fresh clean water, fresh clean water, fresh clean water! Get it? The birds need fresh clean water at all times regardless of weather or season. In the heat of summer, fresh clean water. In the middle of an ice storm in winter, fresh clean water! It will depend on your cage setup how you do this, but give it some thought or try different things For me, down the length of the cages I added a piece of PVC pipe with a slot cut into it. This allows me to easily clean it out or remove ice.
5) Time
Lastly, anything you do requires some time. Quail do need much! Feed them once a day, fresh clean water twice a day, collect eggs and remove waste as it builds up. I can do all of this in about 10-15 minutes a day and 15-20 minutes extra on weekend to clean out from under the cages.
Hope this helps and inspires someone to get started raising quail!
Winter is FINALLY over! I ended up with 10 quail after a long brutal winter. Thanks to the surviving females I have 28 eggs in the incubator. With my normal 50% hatch rate I hope to have 10+ new additions to the flock.
I have a cheap low end styrofoam incubator. Last year I got a digital thermometer and it shows the temp range (hi/low) and this thing varies wildly which is why I think I get such a low hatch rate. I am thinking I will need to see what I can do it better insulate it and see if I can get it into a narrower temp range. Thoughts?
Decided this weekend that the weather was finally done with the brutal cold and moved the birds back into the suspended breeding cages.  One mistake I made this year is I kept too many males over winter – feed cost I didn't need to spend.  Ended up with 4 females and 6 males, since I keep the 2:1 had a few extra bachelors.
Since I was short females and to diversify the gene pool I ordered some eggs off eBay.  It was almost a bad situation since I didn't account for my travel schedule, they came one day before I left.  Which actually works well as they can incubate while I am gone.  Hopefully in 17 days I will be at full capacity for the summer.
My hope this year is too focus more on meat production.  Have to wait and see how quickly I can cycle them through the incubator and brooder.
Bunny update:  my existing doe had a litter of 6 last week, 5 made it.  I seem to loose one right off the bat with each litter.  Hopefully the other two does I kept from the first litter last fall are pregnant and will have litters in two weeks.
UPDATE: birds started laying last week while I was gone.  Took about a week and half after I put them back on 12-14 hours of light a day.
Don't tell my wife, but I have a group of eggs scheduled to hatch this weekend. My initial spring hatch didn't leave me with a good ratio of male to female, so when she wasn't looking I put another batch in the incubator. Just hope she doesn't read this blog. 🙂
UPDATE: 22 new additions to the flock. Told the wife, she was okay with it cause she thinks the new hatches are cute.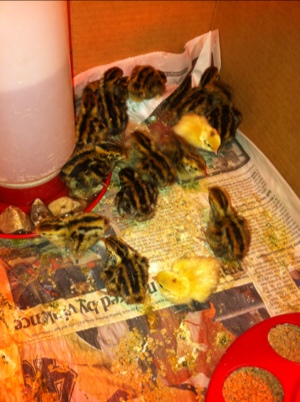 Babies started hatching Tuesday night / Wednesday morning. In the end it was my normal 50% hatch rate with a total of 22. I was a little disappointed to see my eBay purchased netted me three Taxas A&M white quail even though the description clearly stated they where jumbo brown – not assorted. We have to complain and see if he makes it right.
I have been a little lax in my posting, but with good reason: I took the winter off. My new favorite phrase: "I sent all my birds to freezer camp" last fall because I didn't want to deal with stomping through the snow to replace frozen water. But who would have guessed 4th warmest winter. 🙁
Anyway spring is here and time to get back at it. I ordered some eggs on EBay and they came in over the weekend. I gave them a couple days to settle from traveling and placed them in a warm moist incubator this morning. 17 days should have chicks a cheeping. I stuck with the jumbo brown quail as they are easy to raise and identify the sexes. Plus they are good layers and meat birds – dual purpose.
My plan is to order a couple different sets of eggs over the next couple of months to diversify my flock DNA.
I'll keep you posted on the hatch and have a great spring!
Thanks to my wife, the kids got me an egg turner for father's day. After my last hatch plus eight weeks of noisy babies I was going to wait, but couldn't stand it and loaded the incubator up again. It will hold like 140 eggs, but if my hatch rate improves not sure what I would do with all so I only loaded 47.